You forecast in order to become agile
Discover if you're on the right track.
Are you about to start with professional forecasting? Then you would probably like to know if you are on the right track or which possibilities there are.
There are a lot of misconceptions about the subject and you would like to approach it in a professional manner. Because only then can you be successful.
In this Whitepaper you will learn:
To establish how important agility is for your organization
Get to know 5 different kinds of professional forecasting
Discover the key to successful planning for your customers
Tick the checklist and become a pro in planning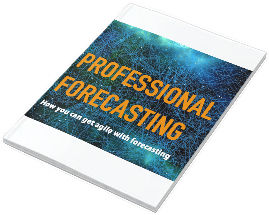 Download Whitepaper
And find the key to professional forecasting